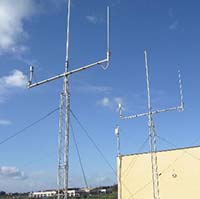 Free Sat was founded in 1999 and it soon established itself as a major competitor in radio communication and electronics. Our Company deals with any branch of telecommunications. Free Sat is a valuable and reliable source of information for his clients, offering them top services.


Our firm specializes in selling, maintenance and installation of transceivers, relay stations, telecommunications installation, operations by remote control and telemetry, video surveillance systems, video analysis and software development.
If you need any assistance, please contact our Customer care from Monday to Friday (9.00 a.m.-6.00 p.m.). For our clients the assistance is available 365 days a year, 24 hours a day.
For further questions please contact:
info@freesatweb.it (for general queries)
commerciale@freesatweb.it

Or please write to:

Free Sat Telecomunicazioni srl
Via Pasteria n.8 SS.114
95011 Calatabiano (CT)
Tel. 328 4150127
Tel.Fax 095 640451
Analysis, feasibility study, planning and implementation of synchronic, multi-access and conventional radio systems:
selling and hiring of relay stations, transceivers, antennas, GPS;
implementation of Satellite radiolocation systems;
feasibility study and simulation of radio covering areas;
small, medium-sized and complex video surveillance systems both for military and civil use;
dealing with paperwork at the 'Ministero delle Comunicazioni' (Ministry of Communications);
installation of pylons and antennas both for military and civil use;
implementation of video surveillance system operative stations;
nautical systems;
internal and external TLC systems for hotels and for small towns
installation of terrestrial and satellite TV antennas for hotels and blocks of flat;
radio systems for any need and application;
remote control systems and telemetry
long and medium distance wireless systems;
software planning and development;
maintenance contract;
24h-assistance-service.
Technical director: Carmelo Vinciullo